Go-myLife aims to improve the quality of life for older people through the use of online social networks combined with mobile technologies.
The Go-myLife architecture consists of a core social networking platform connected to disparate social networking sites through middleware that essentially addresses personalization, security and integration-related requirements, with an easy and accessible interface.
Other than controlling user access and authentication, the core platform will also manage privacy, trust and reputation through identity management and reputation systems. This will ensure that during any group interaction, users are aware of the information being shared and have aids available to control it. To assure interoperability and ubiquity, Go-myLife will provide a web-based solution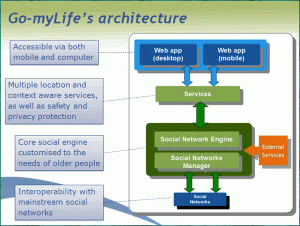 Objectives:
The Go-myLife project has three main objectives:
A platform built around the needs of elderly people
Conventional online social networks were started with young people in mind and have only slowly expanded to include older demographics.
A platform fully integrated with mainstream on-line social networks
Older people are keen to maintain contact with the different generations of their family.
A platform based on mobility and location awareness
It is important for older people to be supported not only in their homes, but also while they are out and about.
Expected results and impact: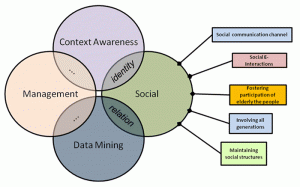 The Go-MyLife platform will have significant impact in improving the quality of life of older people. We see several areas of benefit, from helping some older people to take their first steps onto the internet and online social networking, to enabling other, more experienced internet users, to use the platform to more easily and confidently express their thoughts and ideas and to engage with mainstream discussion and debate. The fact that the platform will be optimised for smartphone use will help older people feel more confident and secure while out and about, knowing that they are "carrying their social network with them".